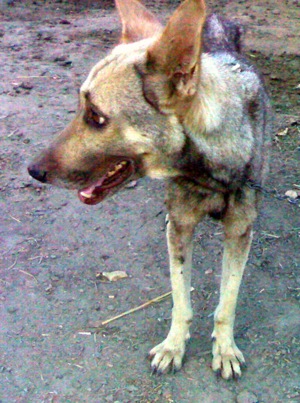 Types
There are three main types of Pakistani Shepherd Dog.
1) Short Haired
2) Long Haired
3) Bhayari Alsatian
Bhayari Alsatian is a cross between Pakistani Shepherd Dog and Alsatian (GSD).
DESCRIPTION:
Pakistani Shepherd Dogs are very strong and muscular dogs. They have a rounded forehead and dark almond shaped eyes. Their lips are black and their nose is mostly black. Their feet have very hard soles. Adult Pakistani Shepherd Dog have erect ears. The coat of the Pakistani Shepherd Dog is usually black and tan, but can be gold, and some can come in white, which is rare but does occur. The colors vary from region to region.
TEMPERAMENT:
The Pakistani Shepherd Dog is a herding breed. They are very keen and love to herd animals, sometimes even little kids and their owners. They are dedicated to their work, courageous, fearless and alert. Very protective of their property, owner and sheep. They can be trained easily because they love to learn new things. Pakistani Shepherd Dog are very loyal toward their work and handler, loving their family. They obey their owners every command. The Pakistani Shepherd Dog has a loving nature and is very playful with children, enjoying playing games. This breed is bred to work, and can't sit idol all the time. Being able to work is their passion. They should be socialized from an early age and training should start as a puppy. Bhayri Kuttas should not be left alone with other small non-canine pets. This is a very obedient and loyal breed whom are not aggressive, but will protect their owners to the death should the need arise. This breed needs owners who are naturally authoritative over the dog in a calm, but firm, confident and consistent way.
HEIGHT & WEIGHT:
Height: Dogs 24-25 inches (61-64 cm.), Bitches 20-24 inches (50-61cm.).
Weight: 77-99 pounds (35-45 kg.)
HEALTH PROBLEMS:
Prone to flea allergies.
LIVING CONDITION:
This high energy, relentless breed keeps on working in desert temperatures of 104 degrees F (40 degree C.) and sometimes higher.
EXERCISE:
The Pakistani Shepherd Dog love strenuous activity, preferably combined with training of some kind, for these dogs are very intelligent and crave a good challenge. When not being worked they need to be taken on a daily, brisk, long walk, jog or run alongside you when you bicycle. While out on the walk the dog must be made to heel beside or behind the person holding the lead, as in a dog's mind the leader leads the way, and that leader needs to be the human. Most shepherds love to play ball or Frisbee. This breed does best with a job to do. Without enough exercise, mental and physical they will become board and destructive and it will effect their good temperament.
LIFE:
About 8-10 years.
GROOMING:
This breed sheds bits of hair constantly and is a seasonally heavy shedder. If they are in inside dog, they should be brushed daily or you will have hair all over your home. Bathe only when necessary, over bathing can cause skin irritation from oil depletion. Check ears and trim claws regularly.
ORIGIN:
The Pakistani Shepherd Dog is a breed from Pakistan, which has been used for herding and protection for centuries. The word Bhagyari comes from the root word of the Punjabi language "Bhagyaar", which means "Wolf" and, "kutta" which means "dog". This breed is mostly found in the province of Punjab and Sindh in Pakistan. There are different theories on the origin of the Bhagayari Kutta. According to the most popular theory, the Pakistani Shepherd Dog originated between a wolf and a domestic dog of some type, hense the name Pakistani Shepherd Dog (meaning Wolf Dog). If you have ever seen an Asian (Pakistani) Wolf, you will see that the Pakistani Shepherd Dog really resembles that type of wolf.
GROUP:
Herding