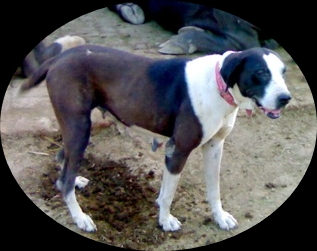 APPEARANCE:
The skin of the Pakistani Bully Kutta is loose and thin but tough. This is a distinctive characteristic of the breed. The skin around the lower jaw and neck is loose. They have a deep brisket. One of the most important characteristics is the very muscular, thick bones. They have broad, wide jaws. The back is long with the tail tapering to a fine point. Their gait resembles one of a lion. The Pakistani Bully Kutta has a short smooth coat that is usually white in colour, however fawn, black and harlequin colors are also found.
Height: 32 - 40 inches (81-101 cm.) (slightly less for females)
Weight: 150 - 170 pounds (68-77 kg.) Some dogs can be over 200 pounds. One dog is known to have grown to 230 pounds.
TEMPERAMENT:
The Pakistani Bully Kutta is a powerful mastiff. They are also known as the "Beast From The East". They are a very intelligent and noble breed. This is an extremly dominant dog and are only recommended for experienced dog owners. They can be very difficult to handle if placed with the wrong owner. Pakistani Bully Kuttas are very trainable. Loyal and protective of their master and property. With proper exercise, leadership, socialization and training, the Pakistani Bully Kutta can make an amenable companion for responsible and knowledgeable owners. Well raised Bully Kutta are good with kids, very loving and playful. In their home land they are mostly used for protection and guarding purposes, but are sometimes unfortunately used for dog fighting, and raised to be aggressive toward other dogs, aloof, not tolerating strangers. This Mastiff will not listen if they sense that they are stronger minded than their owner. Owners need to possess a natural air of authority to their demeanor. The objective in training this dog is to achieve a pack leader status. It is a natural instinct for a dog to have an order in their pack. When we humans live with dogs, we become their pack. The entire pack cooperates under a single leader. Lines are clearly defined and rules are set. Because a dog communicates his displeasure with growling and eventually biting, all other humans MUST be higher up in the order than the dog. The humans must be the ones making the decisions, not the dogs. That is the only way your relationship with your dog can be a complete success. When owners make it absolutely clear they are alpha over the dog in a calm, but very firm manner, and the dog is well exercised, trained and socialized they can be very good family companions.
New York Times best-selling author Greg Iles depicted this breed in his 2009 novel "The Devil's Punchbowl." The breed has also been used as guard dogs in Pakistan. This breed is presented in the International Dog Shows as "PRIDE OF PAKISTAN"
HEALTH PROBLEMS:
Usually healthy.
EXERCISE:
Bully Kuttas need to be taken on daily walks to satisfy their migration instinct. While out on the walk the dog must be made to heel beside or behind the person holding the lead, as in a dog's mind the leader leads the way, and that leader needs to be the human.
ORIGIN:
There are many theories about the origin of this breed. According to the most logical theory there was already a Mastiff breed present in sub-continent of Indo-Pakistan which was used for hunting, guarding and many other purposes. When Britain conquered the sub-continent of Indo-Pakistan, the british soldiers brought their Mastiff type dogs, Bull Terriers and other breeds along with them. These dogs were crossed with the local breed. And thats why there are different types of Bully Kutta.
There is a theory that this breed was originated in the desert areas of Sindh. That's why it is also called a "Sindh Mastiff." They are a Molosser type dog from Pakistan and are largely found in that region. The word "Bully" comes from root word of Punjabi (a language spoken by inhabitants of the historical Province of Punjab of Pakistan) "Bohli" which is pronounced as "Boo-Lee" means "Heavily Wrinkled". And Kutta is a word of Punjabi or Urdu language which means "Dog". Thus Bully Kutta means "Heavily Wrinkled Dog."
TYPES:
There are various types of Bully Kutta from region to region. Some of the well-known types are:
1) Ancient Type Bully Kutta.
2) Aseel Bully Kutta
3) Mastiff Type Bully Kutta
4) Nagi Bully Kutta
5) Modern Bully Kutta.